It's no surprise that traditional brick-and-mortar retail has had to make significant changes in recent years to keep up with ever-evolving consumer demand. With the increasing prevalence of online shopping and its related perks—free shipping, deep discounts, endless options—brands have had to get creative in order to lure customers to spend money in store. But by incorporating new experiences like virtual reality, robotics, out-of-the-box anchor stores and more, the industry has managed to maintain its foothold. Now, a new retail trend is popping up in stores around the world, and it's something a bit more relaxing.
'Today's consumer has embraced wellness.'
"Today's consumer has embraced wellness. The shakeout is evident in the new wellness-related technologies, products and services that cater to this knowledgeable, wellness-engaged consumer," said Jim Holbrook, CEO of Daymon Worldwide, a global consumer retail expert, in the company's "What's Next in Wellness" trend report. "If retailers haven't yet made wellness a key priority, or there's uncertainty about what's truly meaningful to individual store shoppers, they need to know that competitors are not waiting and are looking to woo their customers away."
Wellness is the next great trend in the retail space, and for good reason: The worldwide health and wellness industry was a $3.7 trillion market in 2015, according to a study conducted by the Global Wellness Institute, and it has only gone up from there. It's no wonder landmark brands are trying to cash in on the trend by creating unique wellness experiences for their guests. 
Founded in 1924, Saks Fifth Avenue might not be what comes to mind when thinking about of-the-minute, trend-adaptive retailers. The department store titan has 39 stores across 22 states and is synonymous with luxury retail. But no stranger to the ever-changing landscape of the retail industry, Saks has seen its fair share of changes throughout its long history and has learned how to adjust accordingly. Its latest adaptation is none other than an approximately 16,000-square-foot space filled with state-of-the-art workout classes, unique health services, specially curated wellness products and more—all inside of the brand's Fifth Avenue flagship store.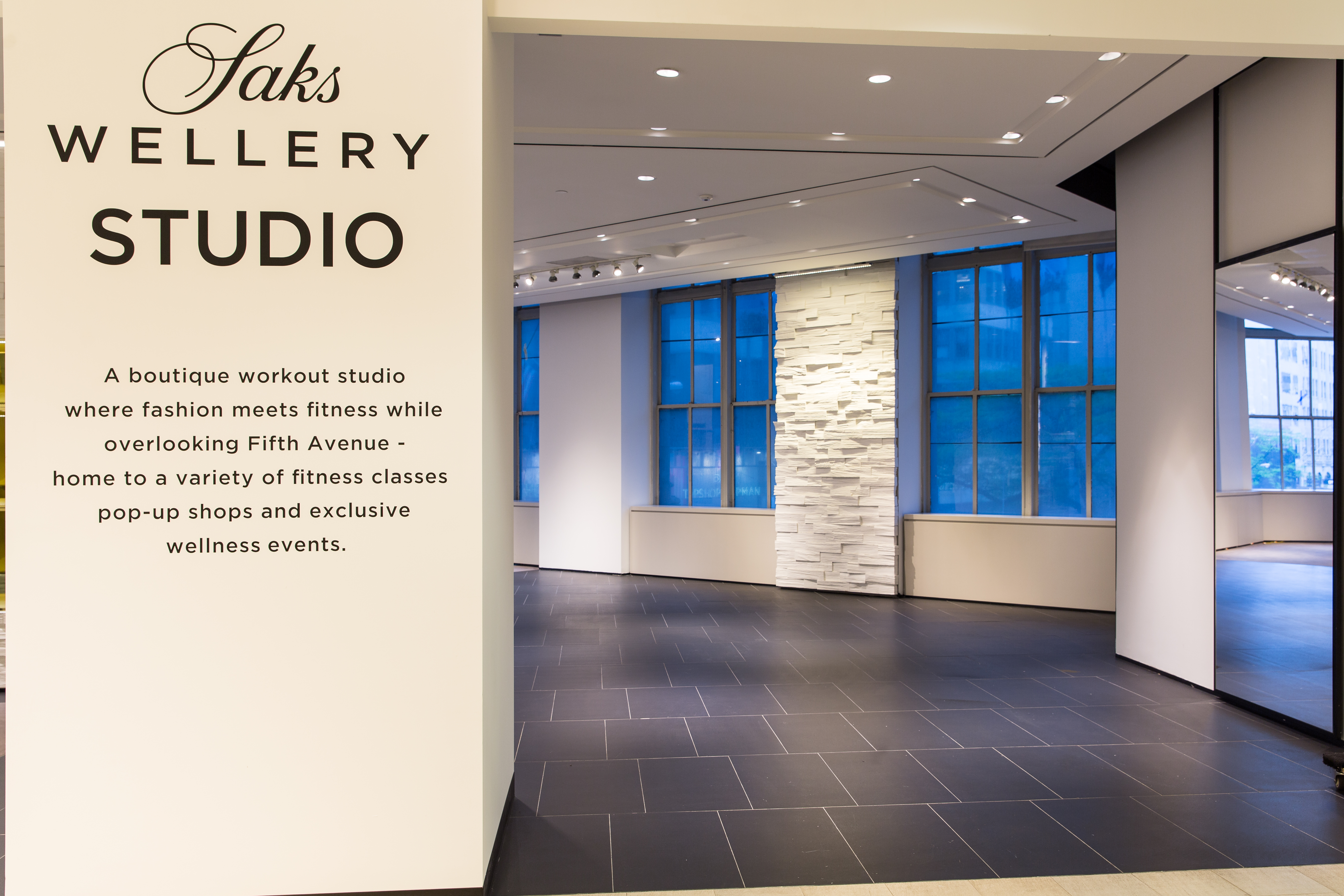 Customers can now experience the Saks Wellery, located on the second floor of the brand's Fifth Avenue flagship store. Photo courtesy of Justin Bridges for Saks Fifth Avenue.
"Saks has a long history of creating breakthrough, experiential environments in our stores—in 1935, an indoor ski slope was constructed in the flagship store in order to offer skiing lessons. The Saks Wellery, our latest concept shop, focused entirely on wellness, continues the Saks tradition of elevating shopping to a higher level by building exciting customer experiences," said Saks Fifth Avenue chief merchant Tracy Margolies in a press release announcing the new initiative. "We want the Saks Wellery to be a sanctuary for our customers—a place to find peace and solace in the middle of our bustling city."
On the second floor of the historic building where the Wellery is situated, shoppers can take a workout class at ConBody, a prison-style boot camp class, or Bendable Body, a self-stretching class, or one of the classes offered at the rotating pop-up studio. Afterward, they can experience dry salt therapy inside the Breathe Salt Room, get a manicure with a side of guided meditation, or undergo some non-invasive body contouring at CoolSculpting. The company hopes that by getting customers in store to participate in wellness events, they'll stick around after to browse the racks.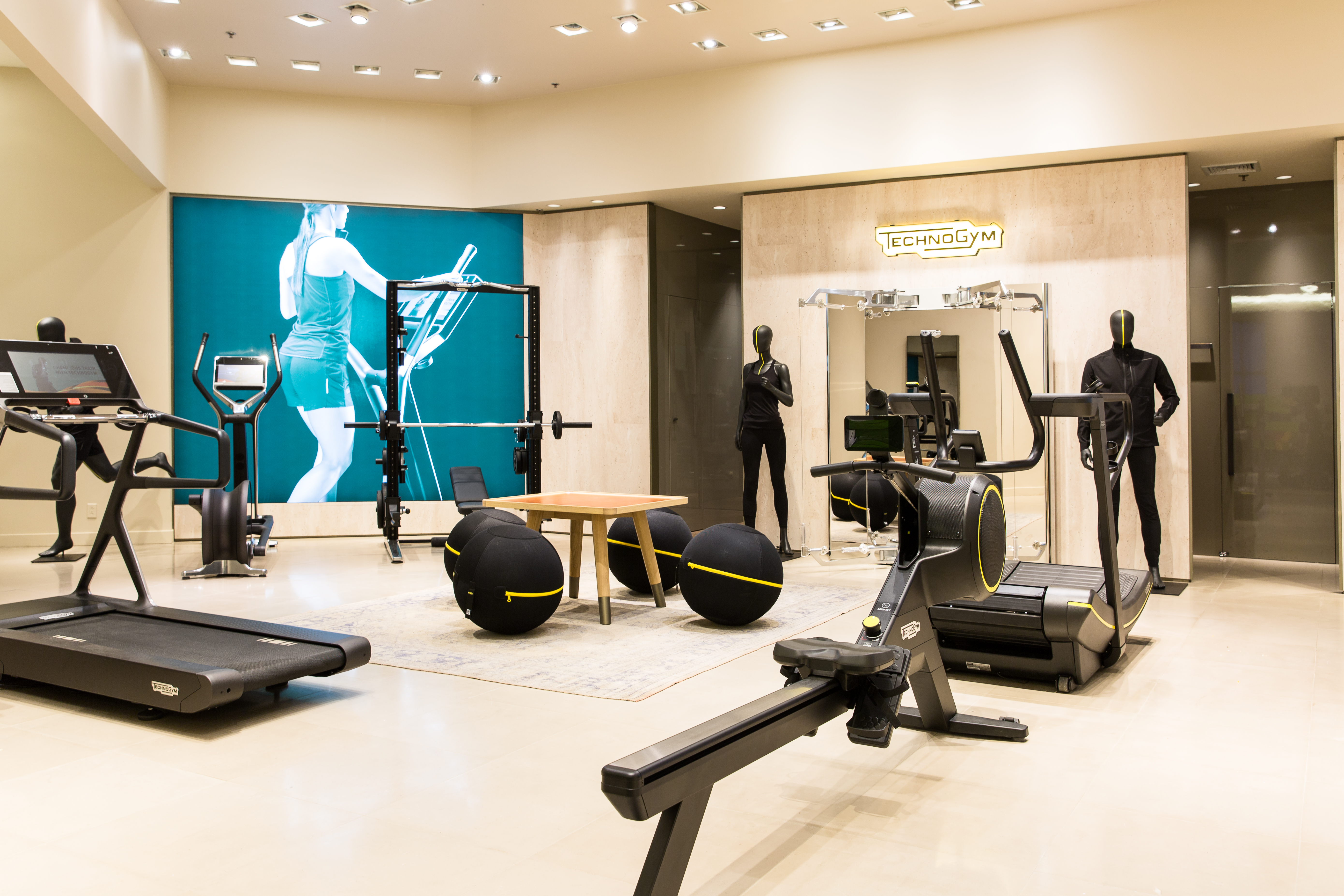 Within the Wellery, shoppers can take a workout class at ConBody, Bendable Body, or one of the classes offered at the store's rotating pop-up studio. Photo courtesy of Justin Bridges for Saks Fifth Avenue.
Though activewear brand Lululemon caters to a more niche clientele than the traditional department store—the activewear apparel market has continued to show double-digit growth since 2012, according to consumer tracking service The NPD Group—they're also upping their in-store wellness offerings by introducing meditation space at their new store near Rockefeller Center in New York City. The concept space features cushioned "Zen pods" where guests can listen to one of 12 self-guided meditation recordings and zone out for a bit, all inside the bustling retail store. Considering the company already offers in-store yoga classes at certain locations, the new meditation space is a natural progression into the wellness sphere.
London's Selfridges department store has a full Body Studio department that offers shoppers everything from high-intensity cycling classes to fitness talks and debates at the health-conscious in-store cafe. And in Berlin, Adidas opened a RunBase store location that seamlessly combines fitness and retail. The space features workout classes and has on-site physical therapists, a healthy sit-down restaurant and a private running shoe store where you can test out the shoes with tracking devices and have a trained salesperson evaluate your performance.
Get ready to sweat where you shop!